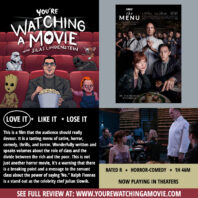 Here is the video and podcast review for the new film The Menu. If you'd like to just read the review, you can read it here. Be sure to subscribe to the youtube channel or the podcast medium of. your choice by hitting the subscribe buttons.
Video Review
Podcast Review (Audio only)
Here's the super short Tik Tok review – All headline, no fluff, but that's what those darn kids like when they are on my lawn.