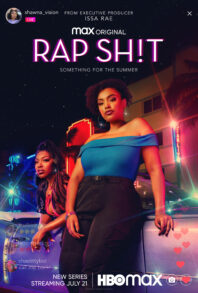 Rap Sh!t (2022)
TV-MA‧ Comedy
Created by Issa Rae
Running Time 31-32 minutes
Where is it airing: HBO MAX
THE CAST
Aida Osman as Shawna Clark, a struggling rapper who works at a hotel.
KaMillion as Mia Knight, a single mother and rapper working multiple jobs to support herself and her 4-year-old daughter, Melissa.
Jonica Booth as Chastity, a "sex work manager".
Devon Terrell as Cliff, Shawna's long-distance boyfriend who is a law student in New York.
RJ Cyler as Lamont, an aspiring producer with a sharp ear for talent and the father of Mia's daughter.
THE STORY
(In their own words) The show follows two estranged high school friends from Miami who come back together to form a rap group.
THE BEST
The BEST things about the film
The writing – love the dialog and the distinct voices.
New look at a world – There is a gaze that 90% of shows on TV have. It is not the gaze from historically underrepresented communities. This one has a different world view and that makes it very exciting.
Fully defined characters – Right out of the gate these characters feel very well rounded and established. What they are doing and their perspective makes sense. These are not simply caricatures.
THE WORST
The WORST things about the Film
Language – If you are sensitive to cursing/language, this could be challenging for you. It's a very realistic language, IMO.
Limited relatability for the audience – One of the best things about this show will be it's ratings weakness. I loved Issa Rae's other show Insecure and I was shocked how many people I knew that didn't watch it. The truth appears to be that people don't watch things if they don't look like them. Which is why Game of Thrones did such huge numbers….I think the audience of HBO subscribers looks more like they do than they do Rap Sh!t. Of course this isn't a "worst thing" about the quality of the show, more about why it won't get the numbers it should.

THE LESSON
We will see. Television shows take a little longer for us to see the message.
THE FINAL WORD
Rap Sh!t is out the gate with a very strong pilot episode and look forward to seeing where the season will take us.
THE VERDICT
My 3L system gives me the choice to Love It, Like It, or Lose It.
After the first episode, Rap Sh!t gets a Love It. 
THE TRAILER