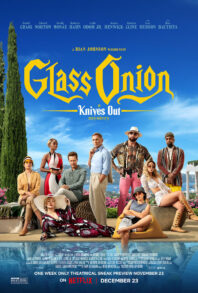 Glass Onion: A Knives Out Mystery (2022)
PG-13 ‧ Mystery/Crime ‧ 2 Hours 19 Minutes
Directed by ‎Rian Johnson
Written by Rian Johnson
THE CAST
Daniel Craig, Edward Norton, Janelle Monáe, Kathryn Hahn, Leslie Odom Jr., Jessica Henwick, Madelyn Cline, Kate Hudson, and Dave Bautista.
THE STORY
(In their own words)
Tech billionaire Miles Bron invites his friends for a getaway on his private Greek island. When someone turns up dead, Detective Benoit Blanc is put on the case.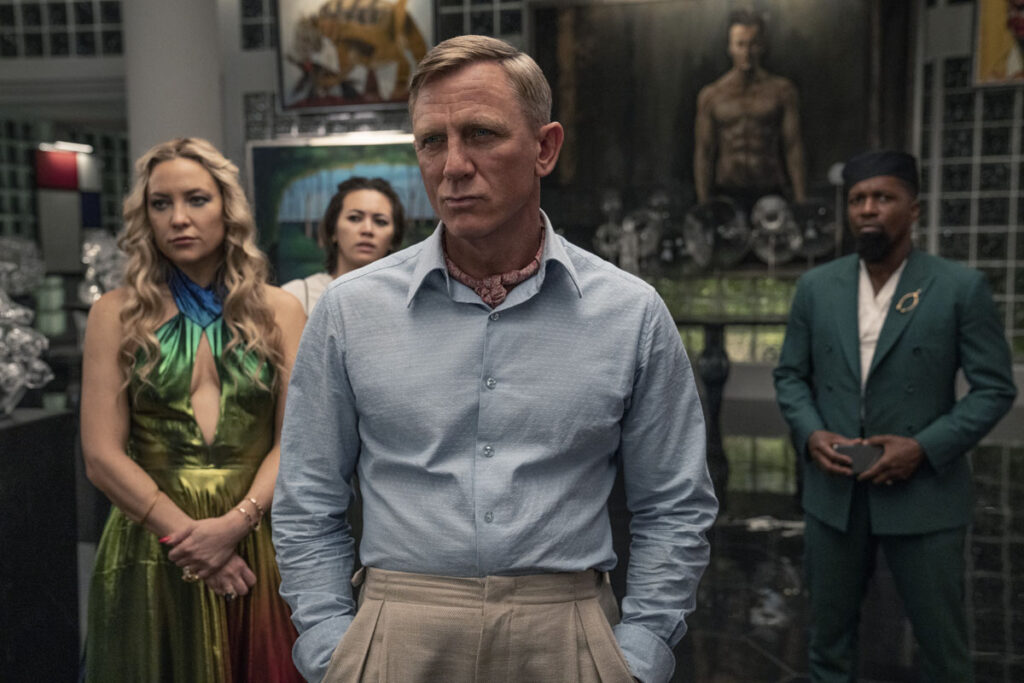 THE BEST

The BEST things about the film
The Mystery – It's unpredictable, which is very ideal in a mystery, but I feel like that has become too hard for films without some supernatural element. This film managed to surprise us with each turn. It's grounded and real and the motivations all make sense. I will go as far as to say that director Rian Johnson has helped me fall in love with mysteries again.

The writing is really just exceptional. Well crafted, thought out, wonderful dialogue, and takes us to places we don't expect. Rian Johnson has a great ability to flesh out characters to be both believable and ludicrous at the same time. He's definitely a master storyteller.

Daniel Craig is a comedic gem – Daniel Craig reprises his role as detective Benoit Blanc from the first Knives out film. I was so glad to discover that his comedic chops from that film weren't a one hit wonder for him. I never expected the man who played James Bond for so long to end up being a fantastic comedic actor, but he is. He's authentic, natural, specific, focused, puts on the jacket of a character without playing a character, which is the difference between being a character and a real person put into a funny situation.
Terrific Ensemble – While I am giving special props out to Daniel Craig, the whole ensemble works well together. From top to bottom the cast is full of really talented actors who have great screen chemistry together.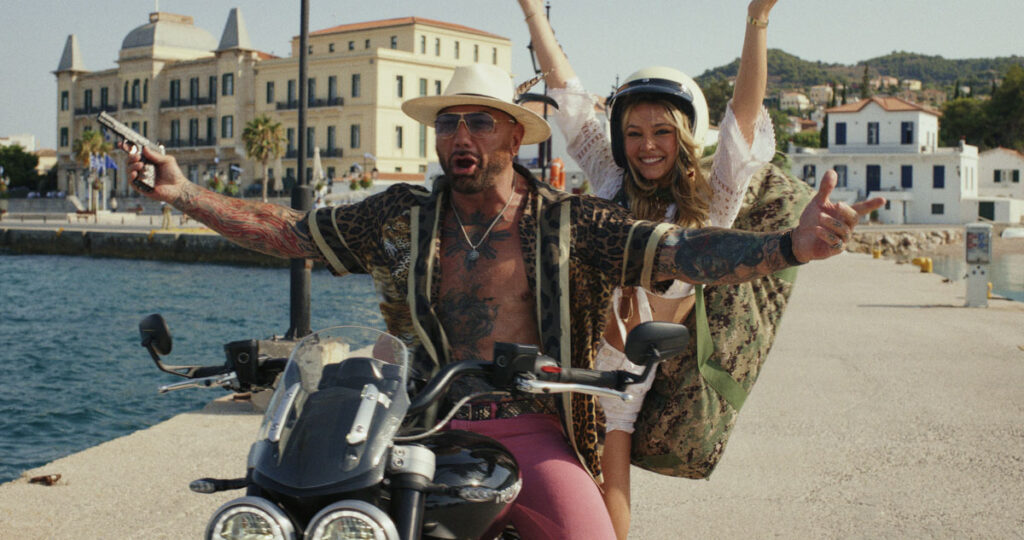 THE WORST
The WORST things about the Film
There is one scene that has some just awful green screen happening. At this production level, we shouldn't be seeing that. I get that special effects scenes are expensive, but you've gone this far with the production, have it happen with stunt people or something. It just looked silly.

BEST NON-SPOILER LINES
Be careful not to confuse speaking without thought with speaking the truth.
THE LESSON
A friend that "owes you" isn't really a friend.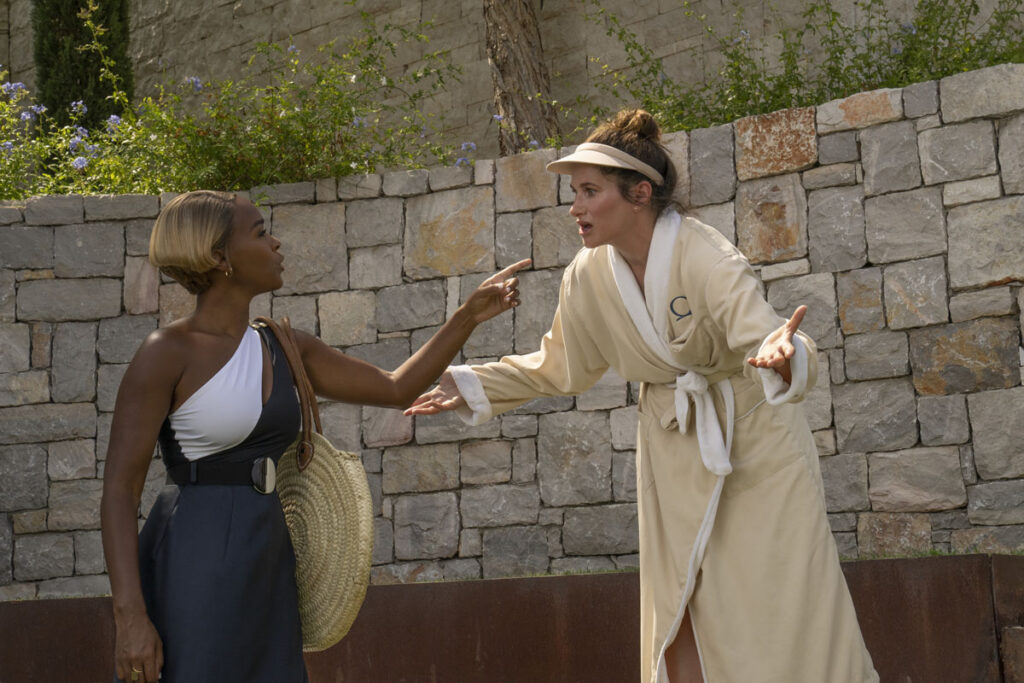 THE FINAL WORD
This stand alone sequel to knives out will keep you guessing through the whole film. If you liked the first Knives Out, you will like this one. It is funny, fresh, and inventive in its storytelling. Easily one of the top four most fun films I've seen this year. Daniel Craig is a comedic gem. Dave Batista is becoming another ex-wrestler turned actor that when I see them in a film, I know that I'm going to have a good time. Rian Johnson shows again that he is an excellent craftsman in writing, directing, and overall storytelling. He is making me fall in love with murder mysteries again. If you can, watch this film with a crowd, but whatever you do, don't miss it.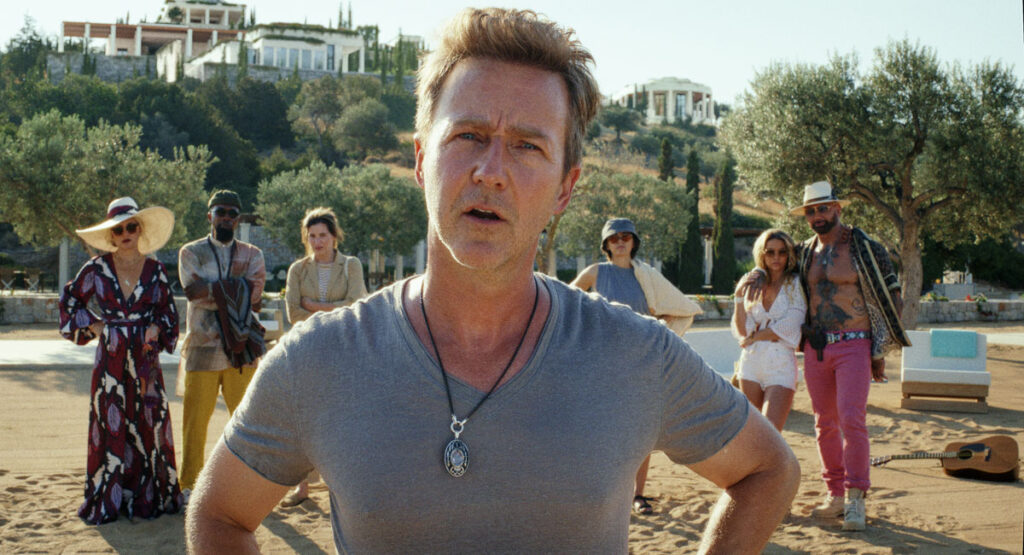 THE VERDICT
My 3L system gives me the choice to Love It, Like It, or Lose It.
Glass Onion: A Knives Out Mystery gets a Love It
THE MEME REVIEW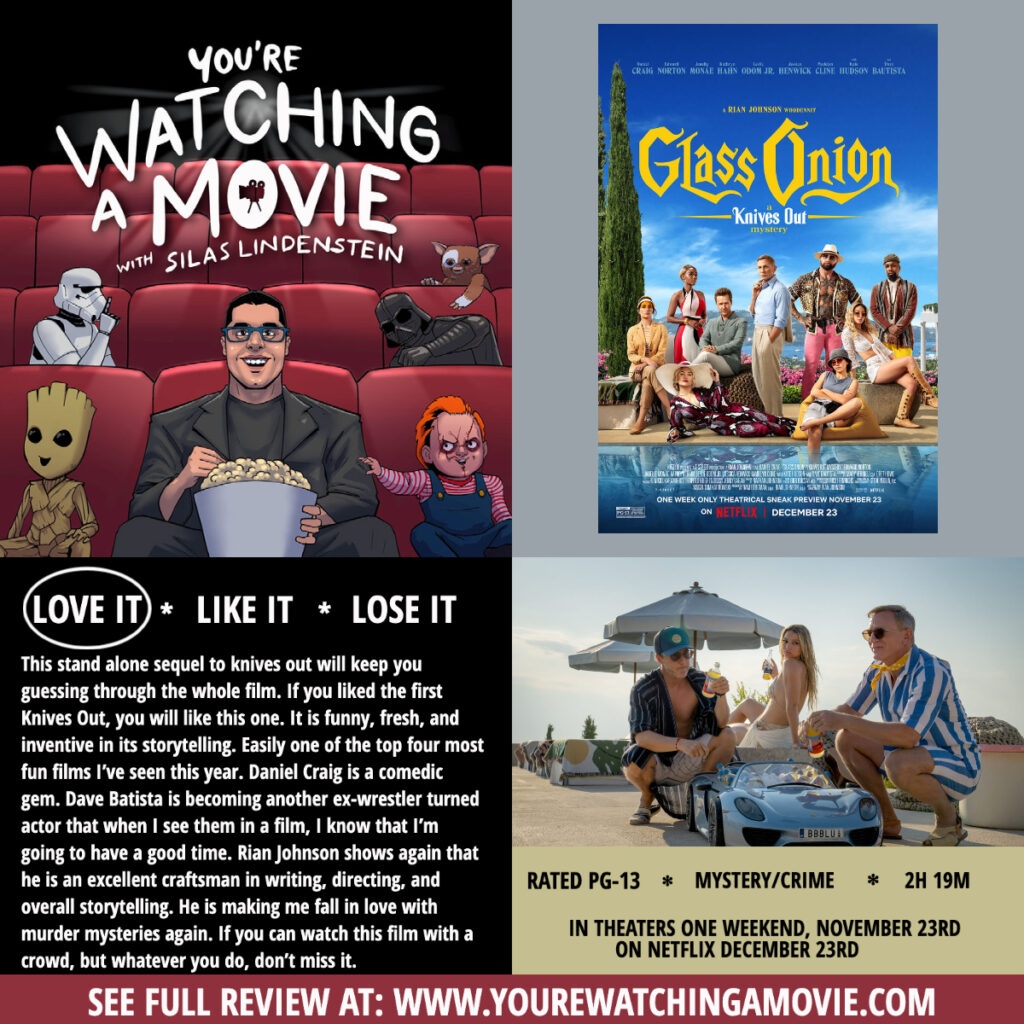 THE TRAILER
THE VIDEO REVIEW
THE PODCAST REVIEW
WHERE TO WATCH
Watch in theaters for one week starting November 23rd and on Netflix December 23rd. www.Netflix.com/GlassOnion