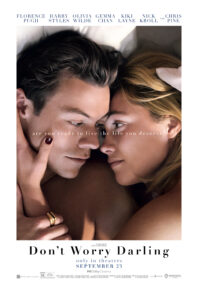 Don't Worry Darling  (2022)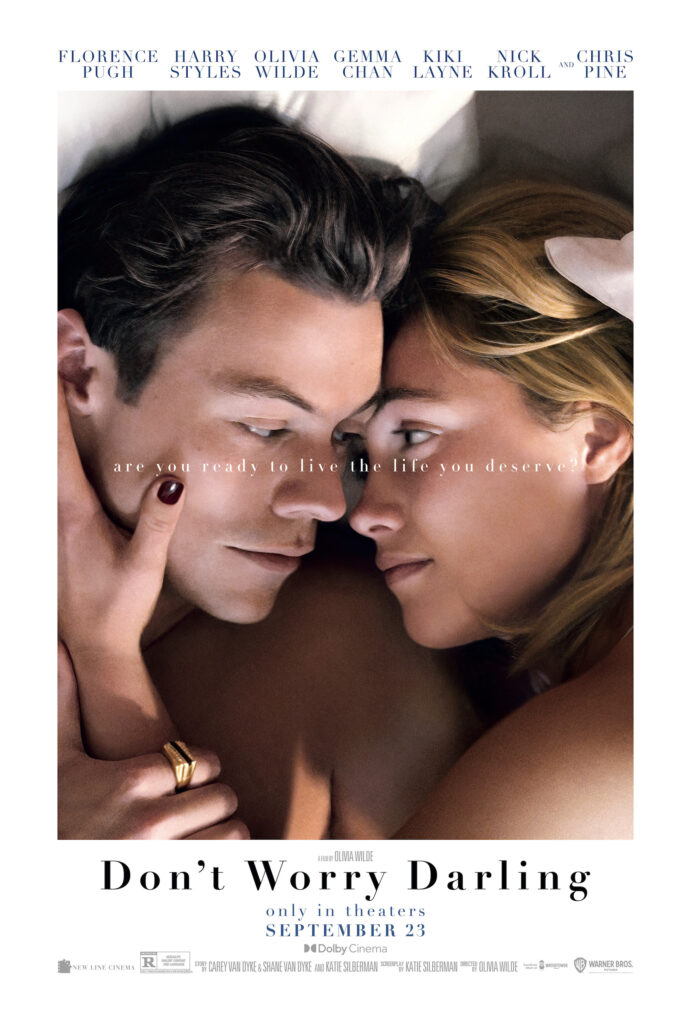 R ‧ Thriller/Horror • 2 Hours 3 Minutes

Writers: Screenplay by Katie Silberman
Story by: Carey Van Dyke & Shane Van Dyke and Katie Silberman
Directed by ‎Olivia Wilde
THE CAST
Florence Pugh, Harry Styles, Olivia Wilde, Gemma Chan, KiKi Layne, Nick Kroll, and Chris Pine.
THE STORY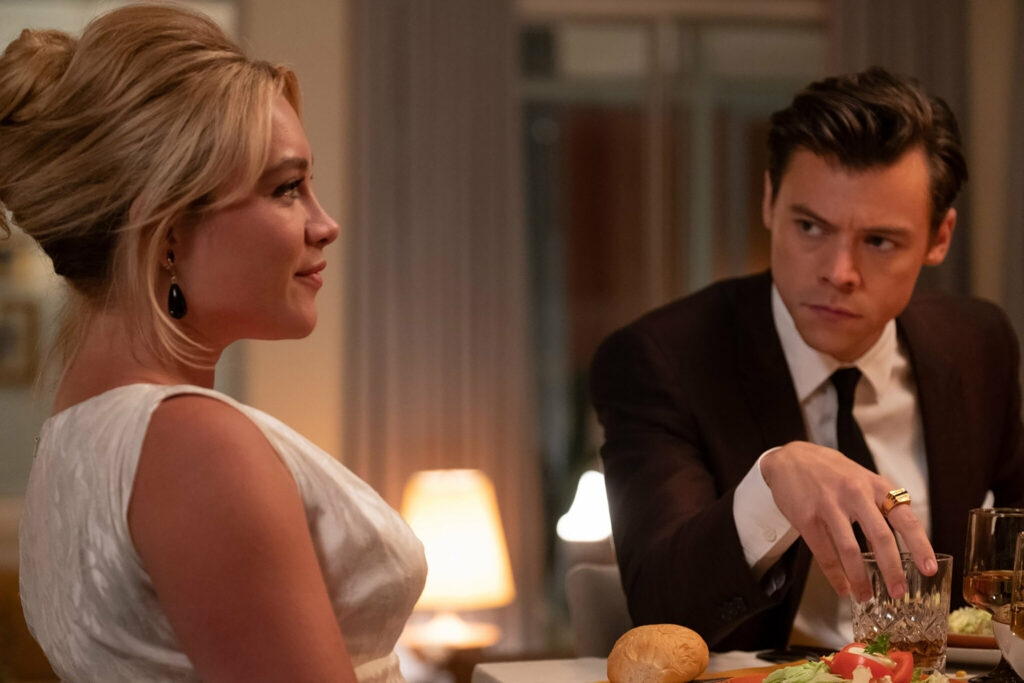 (In their own words)
Alice (Pugh) and Jack (Styles) are lucky to be living in the idealized community of Victory, the experimental company town housing the men who work for the top-secret Victory Project and their families. The 1950's societal optimism espoused by their CEO, Frank (Pine)—equal parts corporate visionary and motivational life coach—anchors every aspect of daily life in the tight-knit desert utopia.

While the husbands spend every day inside the Victory Project Headquarters, working on the "development of progressive materials," their wives—including Frank's elegant partner, Shelley (Chan)—get to spend their time enjoying the beauty, luxury and debauchery of their community. Life is perfect, with every resident's needs met by the company. All they ask in return is discretion and unquestioning commitment to the Victory cause.
But when cracks in their idyllic life begin to appear, exposing flashes of something much more sinister lurking beneath the attractive façade, Alice can't help questioning exactly what they're doing in Victory, and why. Just how much is Alice willing to lose to expose what's really going on in this paradise?
THE BEST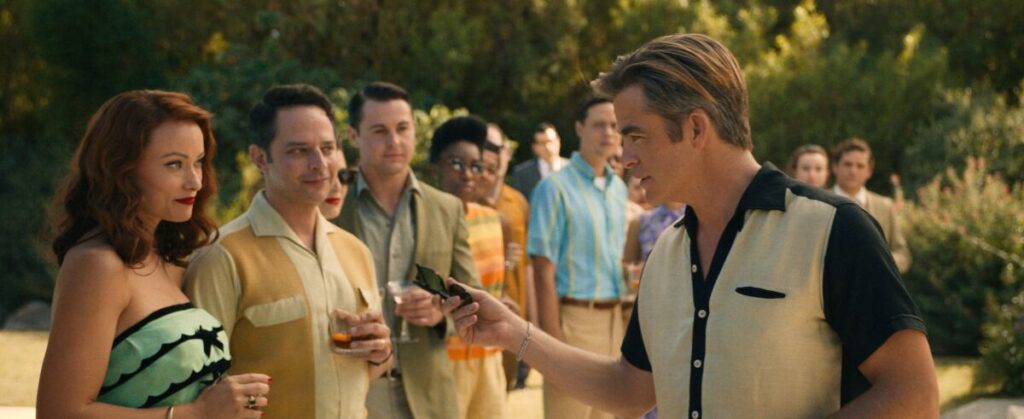 The BEST things about the film
Artistic Design – I really enjoyed the visual world they created. It was interesting trying to figure out whether this was taking place in the 1950s or in something created to look like the 50s.
Florence Pugh – I think she did a great job carrying the film.
The Story – I really did enjoy most of the story. It had a great level of mystery and I really enjoyed how we saw Alice slowly start peeling away the different layers of flaws and mystery.
THE WORST
The WORST things about the Film
Not fleshed out enough. – I really wanted to understand more of how this whole thing originated. There felt like there were missing levels of explanation and intention behind Pine's character.
Special Effects – Many of the special effects that get into Alice's head just seemed cheesy. Nothing special or well thought out.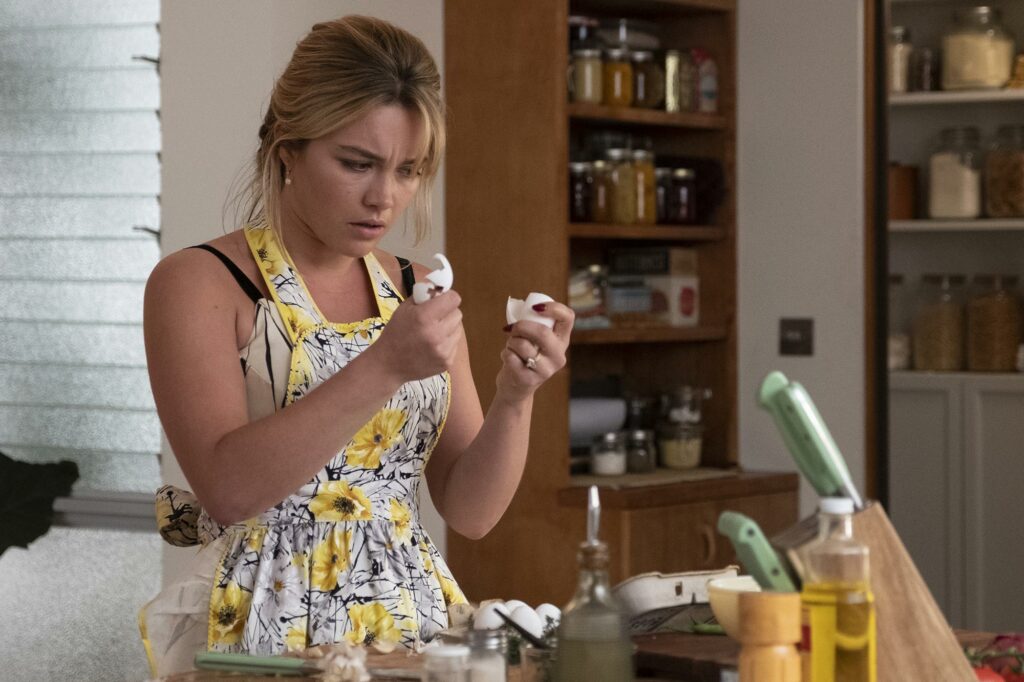 THE LESSON
Living an ideal life comes with a cost.

THE FINAL WORD
A clunky yet interesting thriller. While Florence Pugh has a great performance, we don't really learn that much of the supporting cast to emotionally engage me into the film very much. An average film with great moments, but a little disappointing because it had so much promise. Worth streaming. 
THE VERDICT
My 3L system gives me the choice to Love It, Like It, or Lose It.
I give it a Like It. It wasn't bad, I just wanted more. 
THE MEME REVIEW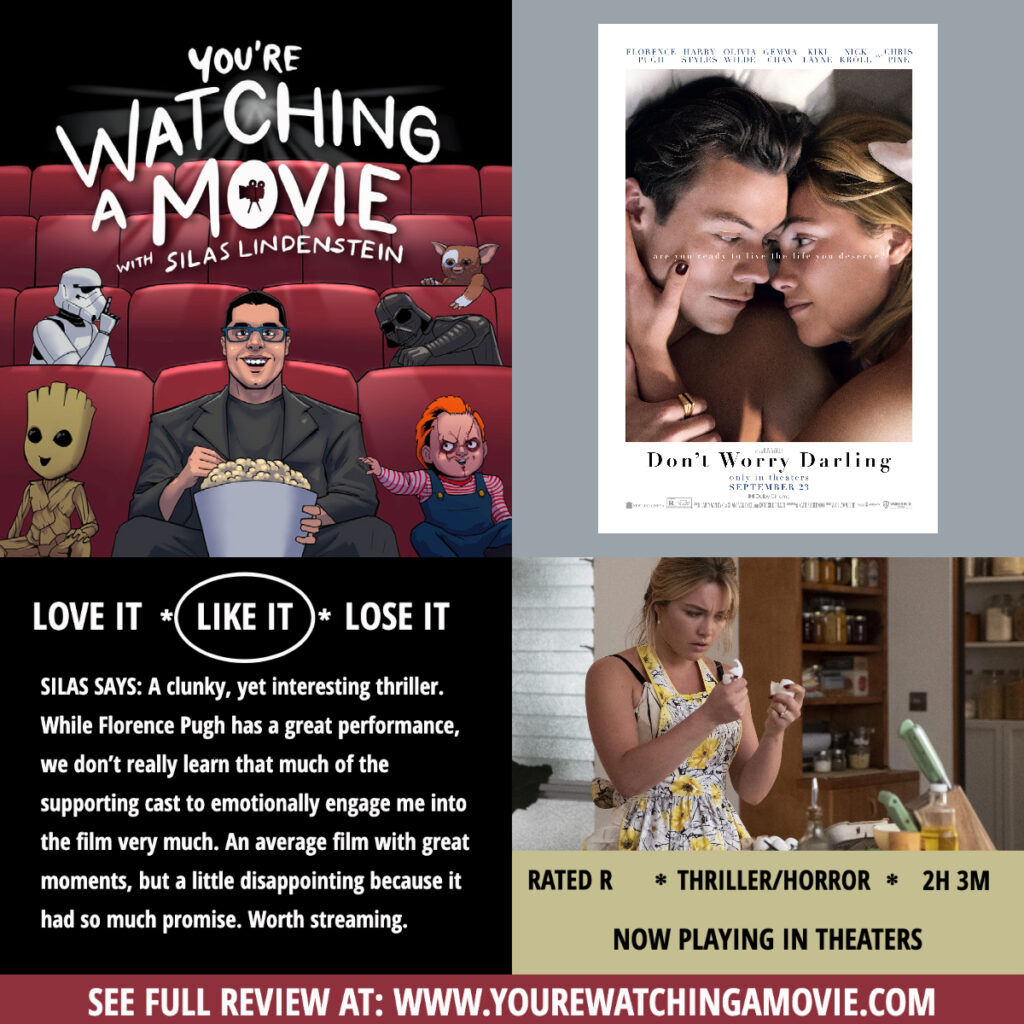 THE TRAILER