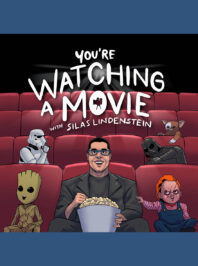 For the first episode, I really just needed something to get up on Apple Podcast and other sources. So I did this episode to be an introduction to the podcast and explain to you what it will all be about. I'm really excited about the possibilities we will have with this podcast. I was talking to my daughter about things I could do with this "brand". Maybe I can expand it beyond simply reviews and conversations with people about films and tv. I could do reaction videos. Those could be tik toks. I could really take some time to celebrate films and filmmakers.
So….I like the art I had done with this. Well….I like most of it. I don't think it looks a lot like me. Or maybe I'm just super self conscious about what caricature artists notice on me. I might just have myself redone.
This might even change some of the stuff I do in my muggle job. Many of you know that when I'm not reviewing or making films, I'm a real estate agent. I have this ongoing thing where I have cartoons made of me in different nerdy science fiction films. I think I might expand that to be just more film parodies in general. My big love is really for films of all kinds. I just happen to have an extreme love of good scifi and fantasy. And obviously by the artwork, I'm still leaning into that. Many of the most iconic characters in film history are scifi/fantasy characters. But there are other moments and scenes that I would like to lean into. I just think it's funny to put me into those different films. And comedy is the other thing I lean heavily into. Those postcards would also work pretty well on this website, so I'll probably really lean into that.
Anyway…this episode is pretty short. Just an introduction, but it is special because it is the very first one. Listen below or subscribe here.
You're Watching A Movie With Silas Lindenstein, Episode #1: The Pilot. The Introduction. The Very First One.